Road to Success
The Landers Hope Their Film Careers Will Be as Long-Running as Their Daily Runs
By Larry Stewart
Absolutely nobody will ever get these Landers Sisters (Judy, 20, and Audrey, 23) confused with those other Landers Sisters - the advice-giving ones. These Landers Sisters are one of the hottest pairs of sisters to hit Hollywood since the Gabor girls took the town by storm. The Landers star in two separate television productions: Judy is in "B.J. and the Bear" and Audrey is one of the unsavory characters in the colossal hit "Dallas."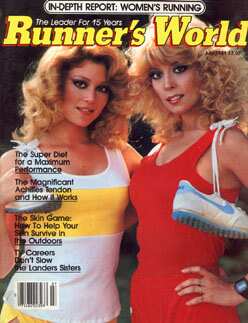 The Landers are hot Hollywood properties. The two sisters live in a fashionable apartment in Beverly Hills and every morning hit the pavement together for a four-mile run along Santa Monica Boulevard, where they're certain to attract the attention of every red-blooded American male (and, not coincidentally, a few producers) within a 100-mile radius.
Running became a big part of the Landers Sisters' lives three years ago after they moved to Tinseltown from upstate New York, where they were raised. "At first," Audrey says, "running was just a way to keep in shape. It helped us tone up and lose a few pounds. But now we run for more reasons than just that. Mainly, it's fun. It also helps us deal with the stress of our jobs. We like to use running to sort out the problems of the day. Our daily run makes things just a little bit easier for us."
The Landers Sisters, as ravishing a pair as one could ever imagine, believe that running is a definite beauty aid. Judy says, "I really believe it helps my complexion simply because it gets the blood and my circulation moving. We do more than just run to keep physically active. We have a gym in our apartment building and we supplement our running with some weight training to keep our bodies trim and our muscles toned up. In our business, it's very important to took physically fit - and we are."
Judy has always been an athlete. As a youngster, she participated in gymnastics and won a state championship. Later, in high school, she was a member of the track team and long-jumped as well as sprinted. "I was pretty good," Judy says, "but I don't remember ever winning anything in track. My running now is more enjoyable because we go longer and slower. That's the way I like it."
Not coincidentally, it was Judy's gymnastics talent that launched her acting career. Audrey auditioned for a commercial in New York City that required a gymnastics routine, and when she did not get the job, she recommended her younger sister for it. After some prodding from her mother and Audrey, Judy auditioned and was selected for the commercial.
"After I did that first commercial," Judy explains, "I was hooked on acting. Before that commercial, I wasn't sure what I wanted to do, but once I got a little involved in the business, I knew that I had found what I wanted to do. Soon after filming the commercial, I joined Audrey in California."
Audrey, on the other hand, always knew she wanted to be an actress. At the age of 9, she began performing in school plays and local theater productions, but her big break came four years later when she landed a singing role on television. Soon after, she made her acting debut on a popular soap opera - "Secret Storm." You may remember her as Joanna Morrison. Audrey followed that role with a 3 1/2-year stint as Heather Kane on "Somerset."
Judy's career, once it got under way thanks to her gymnastics skills, was an uphill battle. Her first television role was as Wanda the Bod in "Whatever Happened to the Class of '65?" Then came several guest appearances on such TV staples as "The Love Boat," "Charlie's Angels," "Fantasy Island," "Happy Days" and "The Jeffersons." During the 1978-79 season, she starred as Angie on "Vegas"
While they aren't twins, the Landers' television appearances have closely paralleled each other. Audrey guested on such blockbusters as "Marcus Welby," "Happy Days," "Room 222," "The Love Boat," "Fantasy Island" and "B.J. and the Bear." She also acted in two short-lived, forgettable series - "The Waverly Wonders" and "Highcliffe Manor."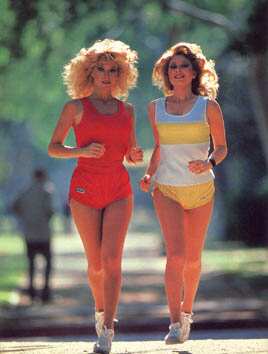 Of the two sisters, Judy is the more adventuresome. She has learned to drive a big rig for her role as Stacks in "B.J. and the Bear." She even wrecked a van once while fooling around on the set. But that dumb blonde routine that she perpetuates on the screen is nothing more than an act. "Stacks," she says, "is not a dumb blonde. She's just very feminine."
Audrey is equally fond of her role in "Dallas," in which she plays Afton Cooper, who is the devious sister of Mitch, who is the medical student-husband of Lucy Ewing. "Afton is a great role for me," Audrey says. "It really tests my acting ability because I'm the total opposite of Afton. She's everything I would never think of being."
The Landers Sisters' routine varies from day to day, but they still try to get their daily run in, even if they're on some far-flung location. They try to get their runs in early because when they return home from the sets, they're often too exhausted to move.
Judy and Audrey are more than just sisters. They're best friends. Neither does anything without the other. With the Landers Sisters, it's always "our" or "we" and never "mine" or "me."
Although their two careers have closely paralleled each other, the Landers Sisters are careful to point out that they are not on a collision course. Neither has really had to struggle for her success like so many other Hollywood actresses, but both had to endure some lean years before hitting it big with regular roles on smash-hit television series. "We realize how lucky we've been," Audrey says, echoing the sentiments of Judy. "We both know what a tough town Hollywood can be to break into. We're moving up in this business, but we are thankful for what's happened to us already. We're both determined to learn our craft."
Judy says, "Running definitely plays a very big role in our lives as well as our careers. We both know that the healthier we are, the better we'll be professionally. For us, running is the main way we stay active and healthy. For sure, it's sometimes tough to get our daily runs in - sometimes there just is not room in our day - but we are determined to keep physically fit. The payoffs are obvious." They sure are. Especially for the running Landers Sisters.
© 1981 Runner's World Magazine Company